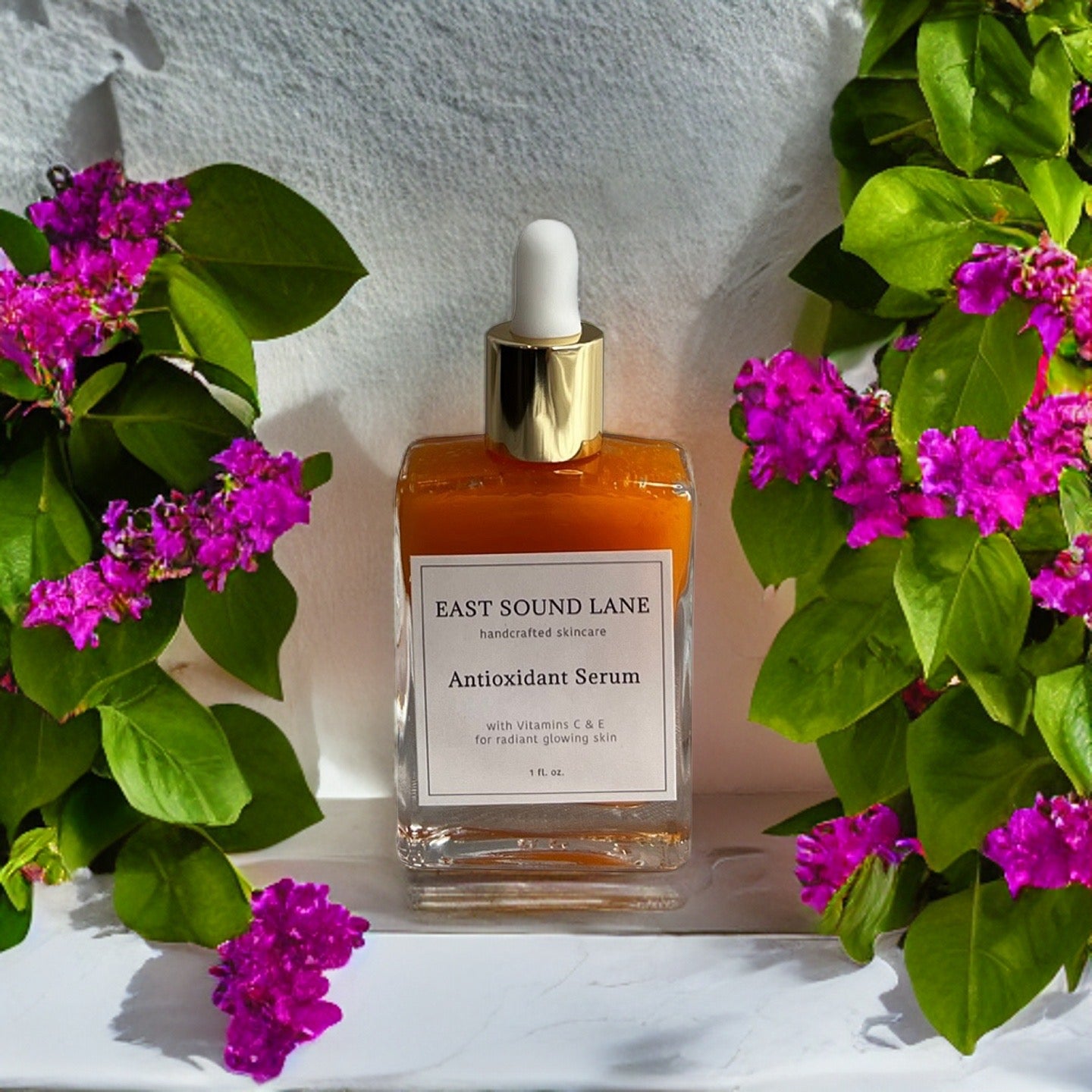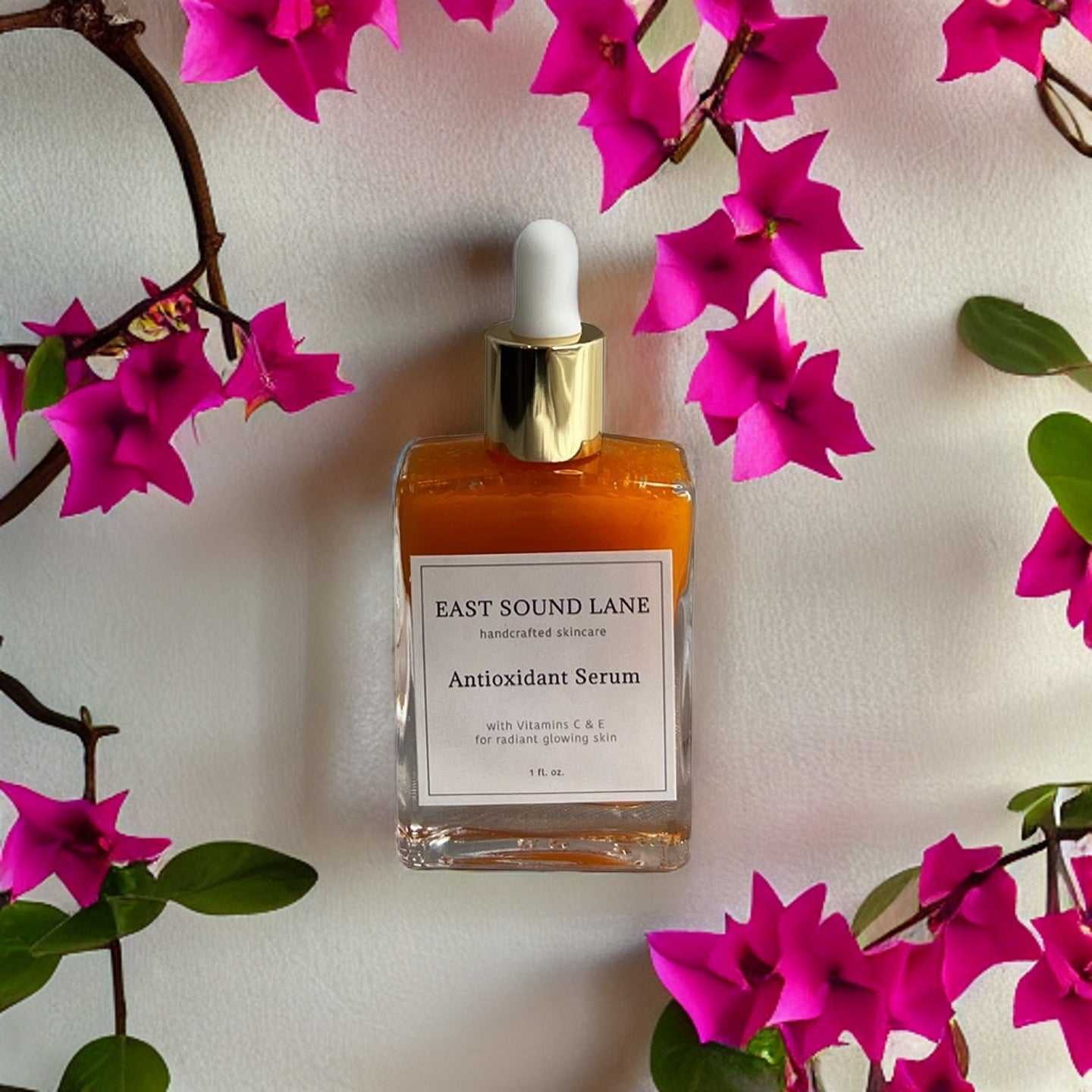 Antioxidant Serum with Astaxanthin, Niacinamide & botanical extracts
Made with natural plant-based ingredients, never toxins. Free of parabens, formaldehyde, synthetic fragrances /dyes, phthalates, sulfates. Cruelty-free, gluten-free, ethically sourced
 Description: This skincare serum answers every question your precious skin has ever had. Gentle fruit and plant acids exfoliate old, dead skin that's stuck on your upper dermal layers. Plant stem cells make the skin look and feel firm and soft. Peptides and astaxanthin work to make the skin feel balanced. And niacinamide helps to even the appearance of the skin's texture and tone. This serum is a heavy hitter in your daily arsenal for bright, even and beautiful looking skin. 
Directions for Use: Serums are delivery systems for ingredients.  Wash and pat skin dry.  If you are going to use a toner, apply the toner before the serum. Apply a small amount to entire face, neck and décolleté. Allow to dry. Can be used daily; can be used under make up. Follow with any of our moisturizers.  
Ingredients: watermelon seed oil, red fruit oil, orchid stem cells, orchid extract, Astaxathin, hibiscus extract, chia extract, seabuckthorn extract, carrot seed, hibiscus oil, deionized water, aloe vera, vegetable glycerin, niacinamide
Ingredient Highlights:
Watermelon Seed Oil - Watermelon seed oil is utterly perfect for troubled skin. Due to its anti-inflammatory properties, it is quite ideal for calming skin inflammation as well. In addition to this, as it is known to be a non-comedogenic oil, it won't block your skin pores or end up causing skin acne breakouts at any given point
Orchid Stem Cells - Orchid stem cells that enhance and improve communication between skin stem cells and fibroblasts resulting in a global rejuvenating effect that lifts and firms' skin, fights wrinkles and gives back a glowing radiance. In vitro: Increases the growth factors production.
Astaxathin - As an antioxidant, Astaxanthin benefits the skin by reducing inflammation and redness, particularly from the presence of oxygen free radicals. These oxygen free radicals wear away at the skin's protective barrier, making it more susceptible to damage from the sun, weather, and other aspects of everyday life
Red Fruit Oil - Its anti-inflammatory properties make it a great for reducing signs of eczema and psoriasis, helping to decrease redness and itchiness. Buah Merah Oil can be used directly on the skin to moisturize hands, nails and cuticles, help improve skin complexion and assist in reducing dark circles around the eyes.
For any questions about products or issues you are having with your products please email me at eastsoundlane@gmail.com and I will get back to you within 24 hours, unless it's between 9:30am and 4:30pm EST you can send me a direct text at (917) 604- 7355, and I'll either call you or respond promptly.
Giving Back
East Sound Lane is committed to helping people find strength and healing after abuse. A portion of each purchase you make goes directly to the non profit Sanctuaries for Families, to provide safety and support for survivors.
Astaxanthin
Astaxanthin is a potent antioxidant known as a carotenoid, found in various foods. It also is found in some forms of red algae. Studies have shown that the antioxidant ability of astaxanthin is much more powerful than Vitamin C. Astaxanthin contains significantly more antioxidants than other superfood heroes, is anywhere from 10 to 100 times more powerful than other carotenoids like beta-carotene and lycopene, and may even be significantly more potent than skin-enhancing vitamin C and vitamin E.
Seabuckthorn Seed Oil
It promotes skin hydration, elasticity, cell regeneration, and even helps treat and prevent acne. Sea Buckthorn oil has anti-inflammatory properties that help reduce swelling and redness associated with many skin conditions, including eczema, psoriasis and rosacea.
Seabuckthorn Extract:
Moisturizes skin while regulating oil: Sea buckthorn oil also helps keep your skin nice and moisturized. It can help as a moisturizing ingredient as it contains linoleic acid, which is found naturally in the sebum, so it may help to regulate moisture levels and overall help with hydration. It is excellent forreducing acne breakouts, because it signals the oil glands to stop creating excess amounts of sebum.
Orchid Extract
rchids have often been called 'the perfect plant for the skin' simply because it contains calcium, magnesium and zinc which are all beneficial to the skin. Not only does orchid oil moisture the skin it also boosts the skins immunity, reduces fine lines, signs of ageing and soothes the skin. The presence of mucilage in orchids enables them tomaintain skin hydration.