Made with an intimate connection
Petal-to-Potion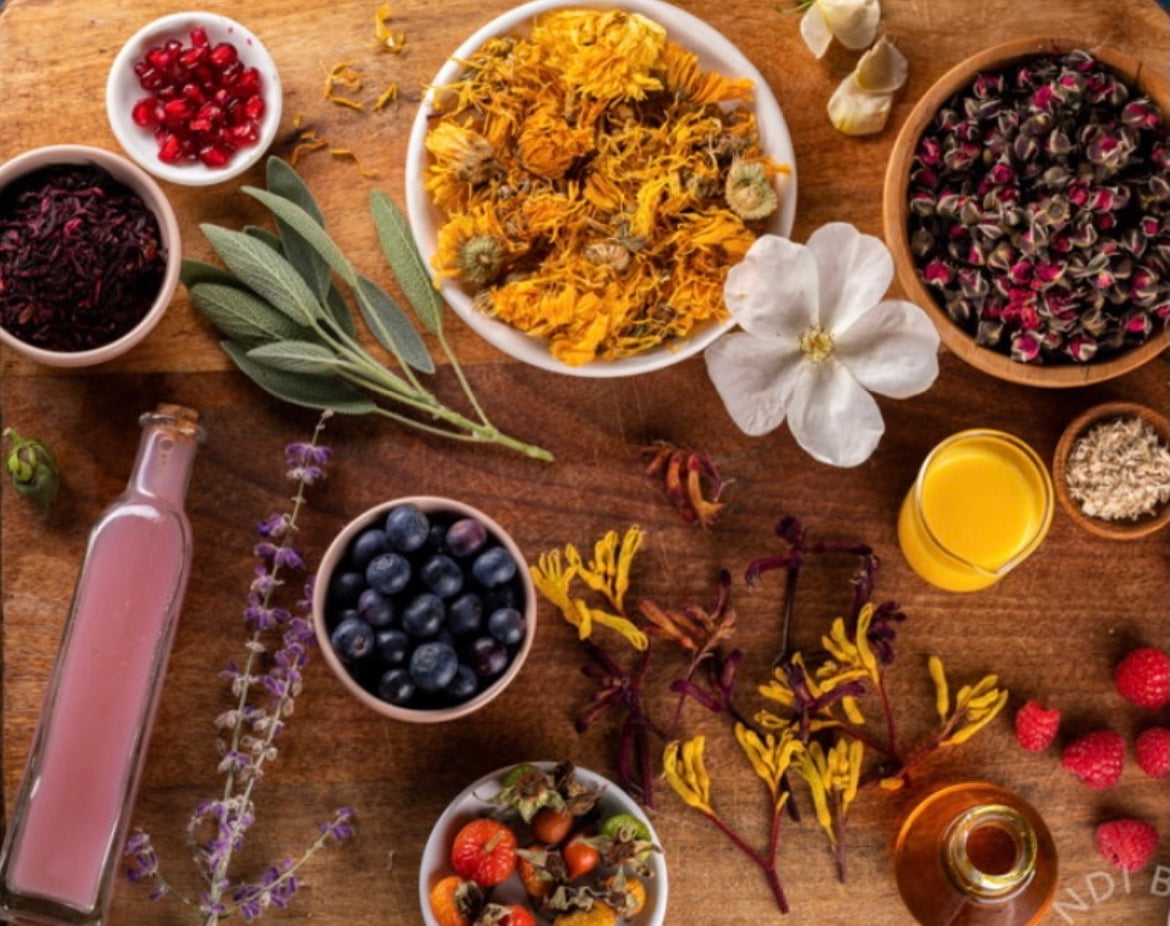 Local & Wild Harvested Ingredients
Clean Transparent Simple Skincare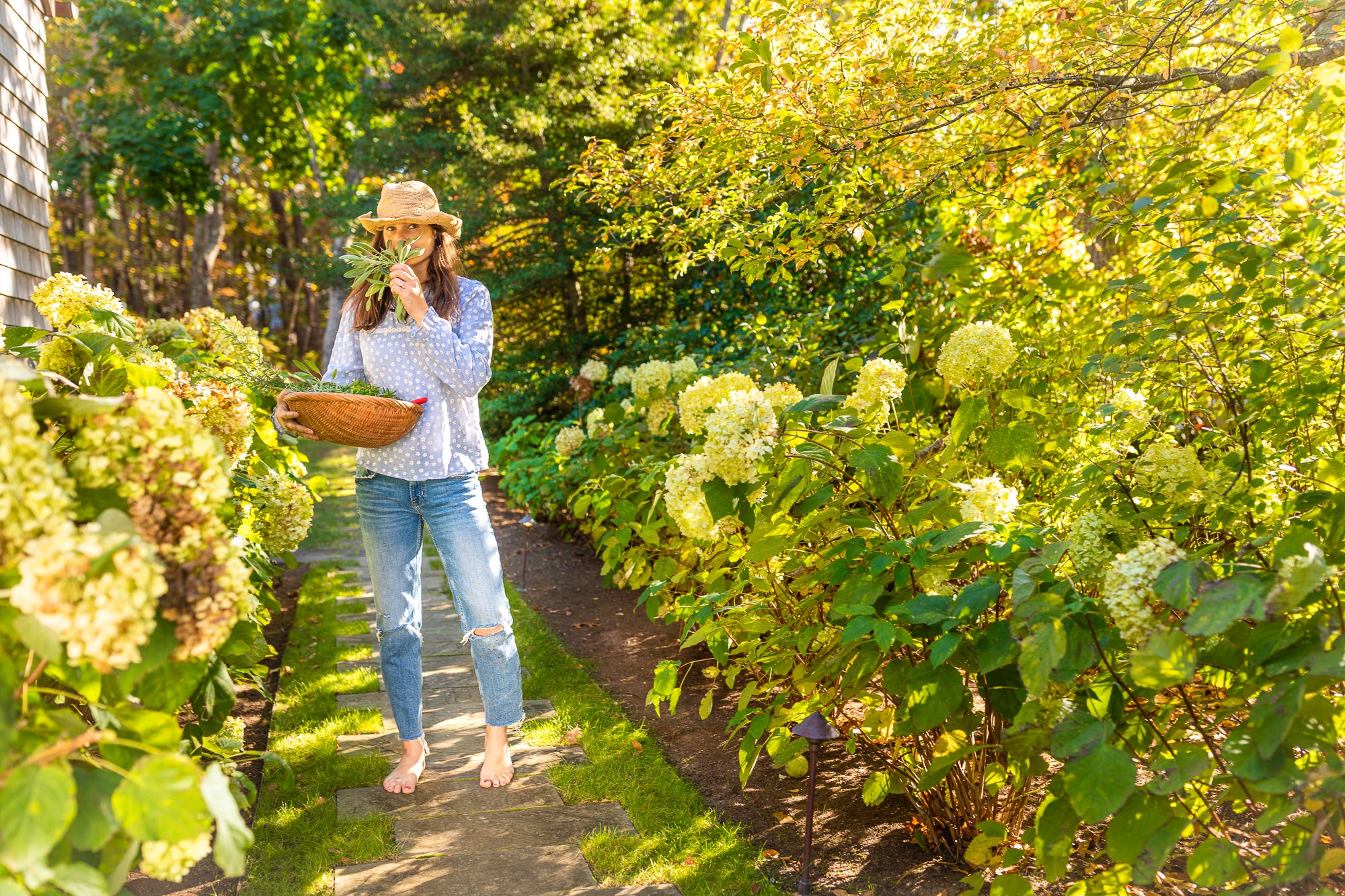 Straight from my garden to your bottle
Every single bottle is filled by hand with love
made by hand in small batches
skincare with a culinary twist
Shop by concern
Collections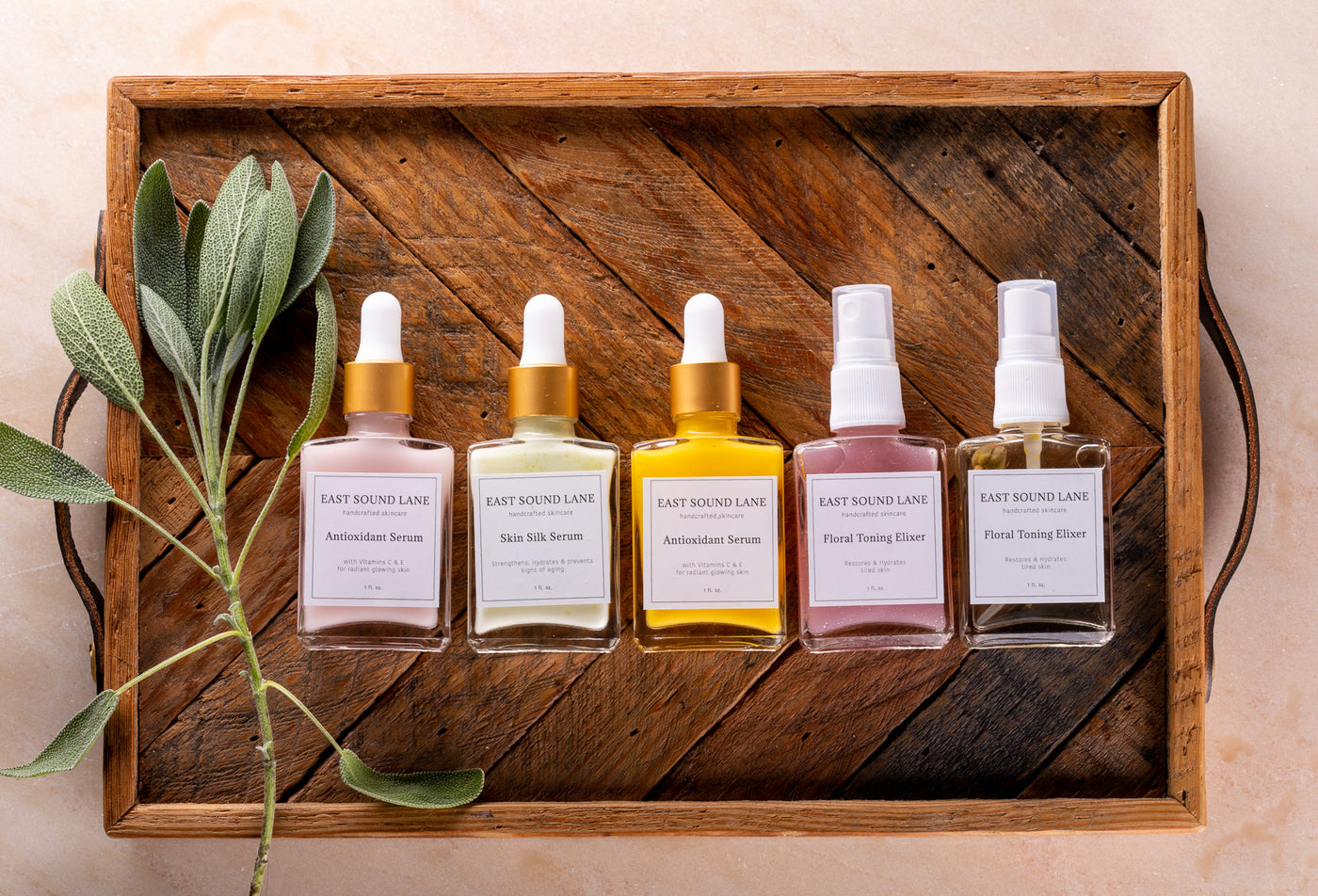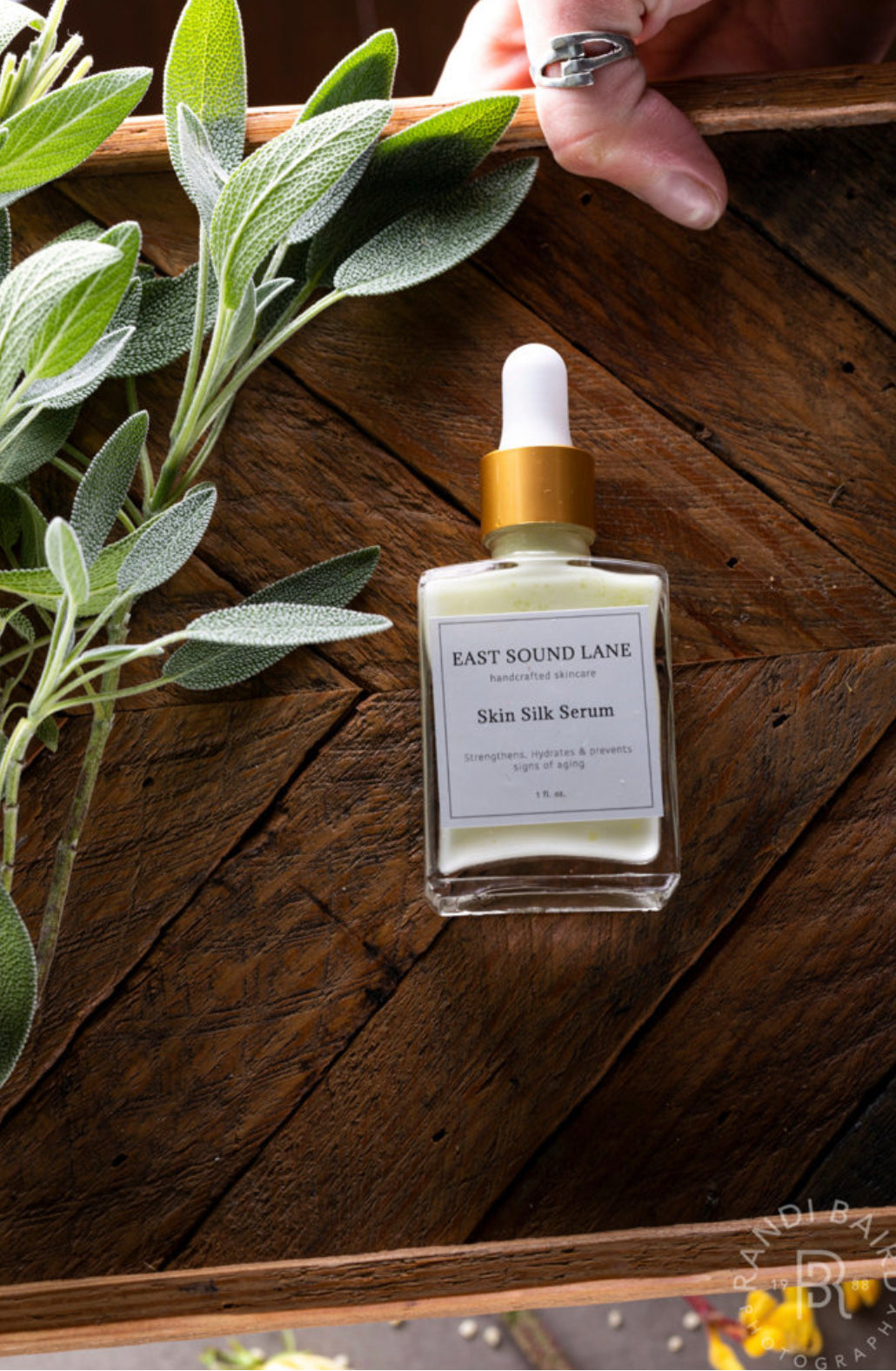 Each collection is carefully curated to fit a diverse range of skincare needs
Made by hand in small batches
East Sound Lane is more than just skincare, it's a daily selfcare ritual
Choose from fan favorites
Customer Favorites
The Skin Silk Serum with island blueberries has been a hit since day 1, as with the bright eyes serum
Made in small batches to enhance the natural beauty you already posses
More than just skincare, we are your daily self care ritual
The majority of my plant-based ingredients are grown right in my family's garden, handpicked by me. With others sourced locally from organic farms and nurseries. I use the petal-to-potion process to sustain the purity of ingredients in my products in order to give you the full benefits of whole plant nutrients. Instead of using harsh preservatives to increase the shelf life of products, I use a natural preservative made of fermented reddish. Due to the freshness & natural properties of each product, I recommend keeping them either in the refrigerator or in a cool dark place. My collection of facial serums & oils are primarily water-free formulations, using Aloe Vera and other botanical extracts as well as floral and herbal distillates to replace the need for water in my recipes. I make everything by hand in small batches making sure to abide to the highest standards.
Made with pure virgin kakadu plum extract (one of natures most powerful sources of vitamin c) and algae extract to help improve the skins elasticity.
Featured product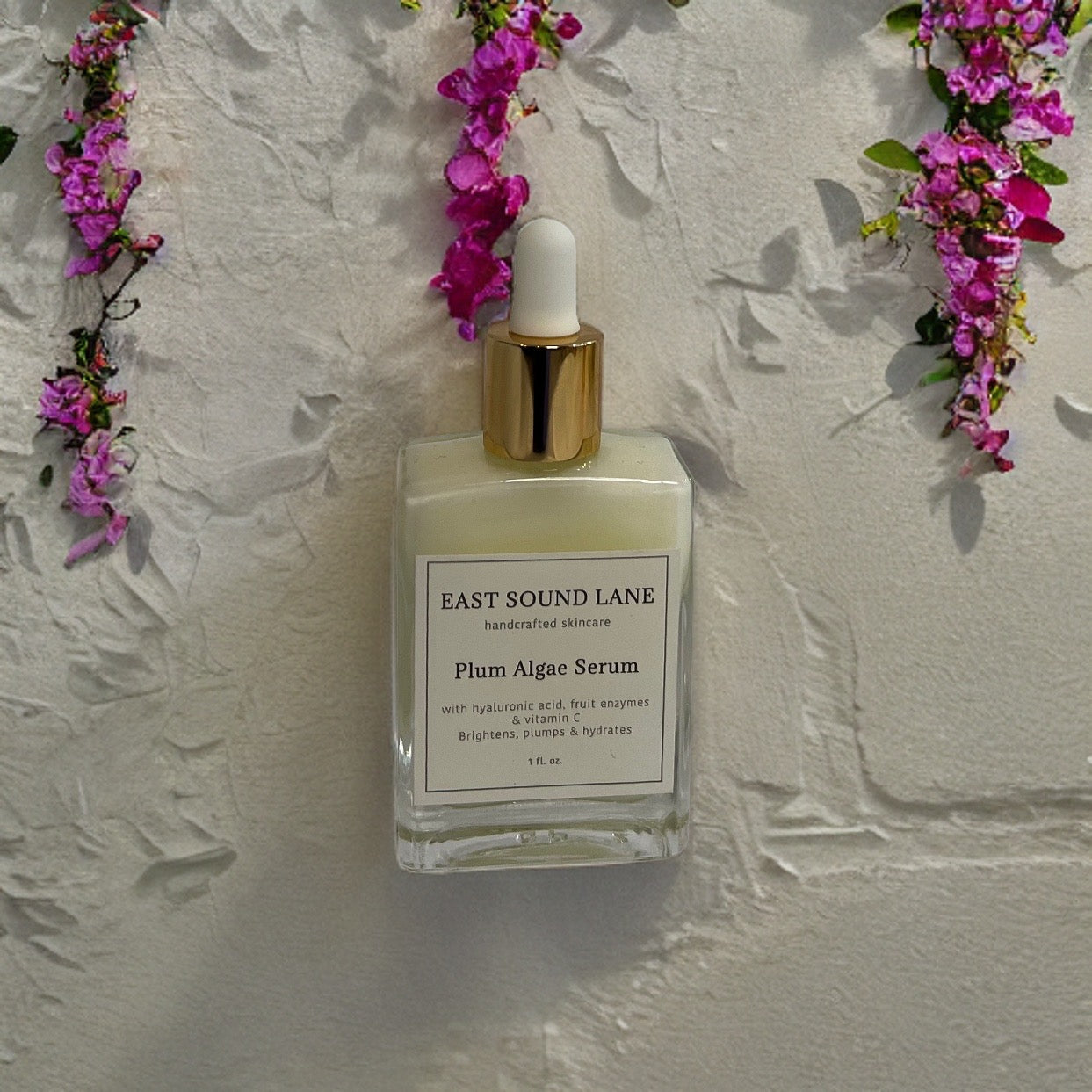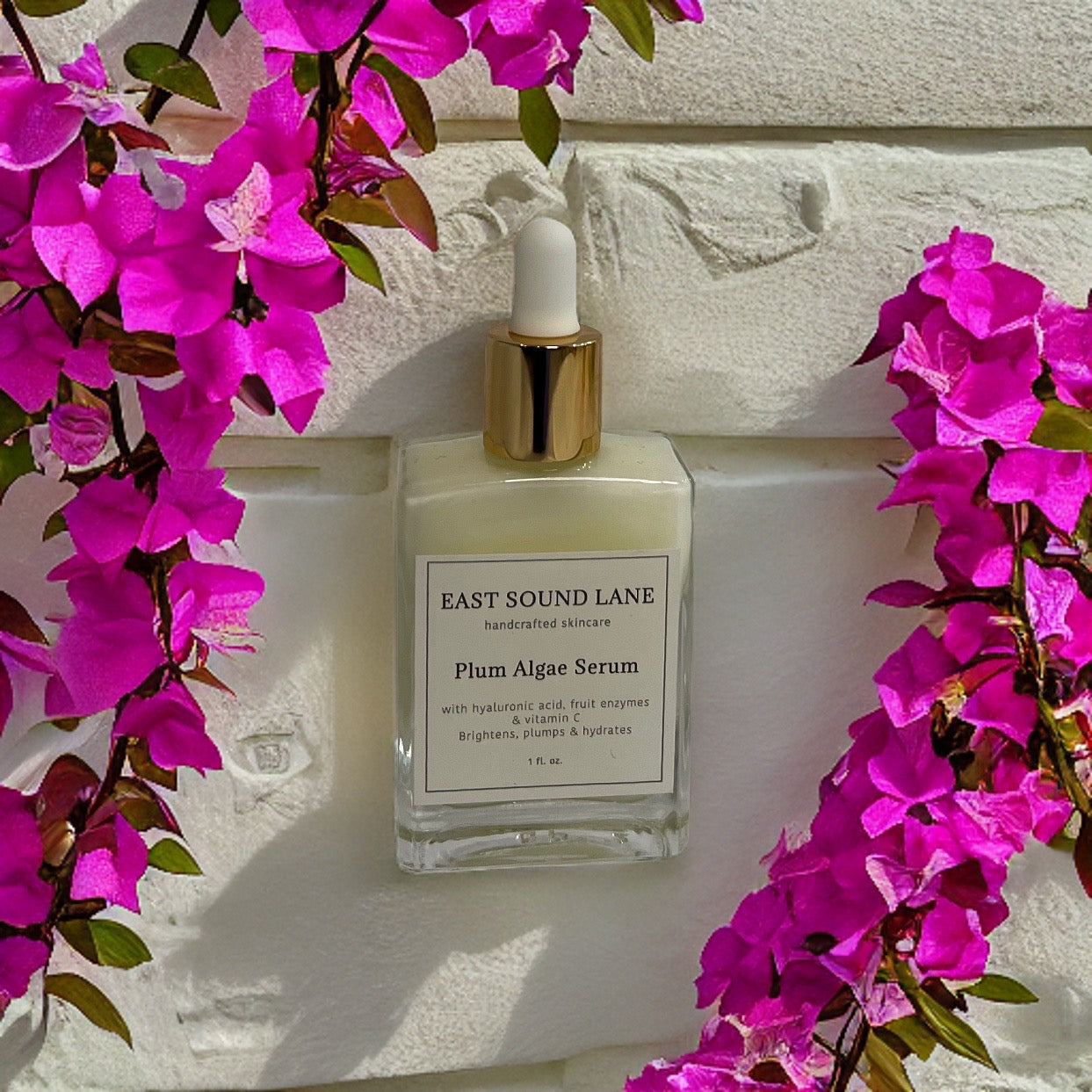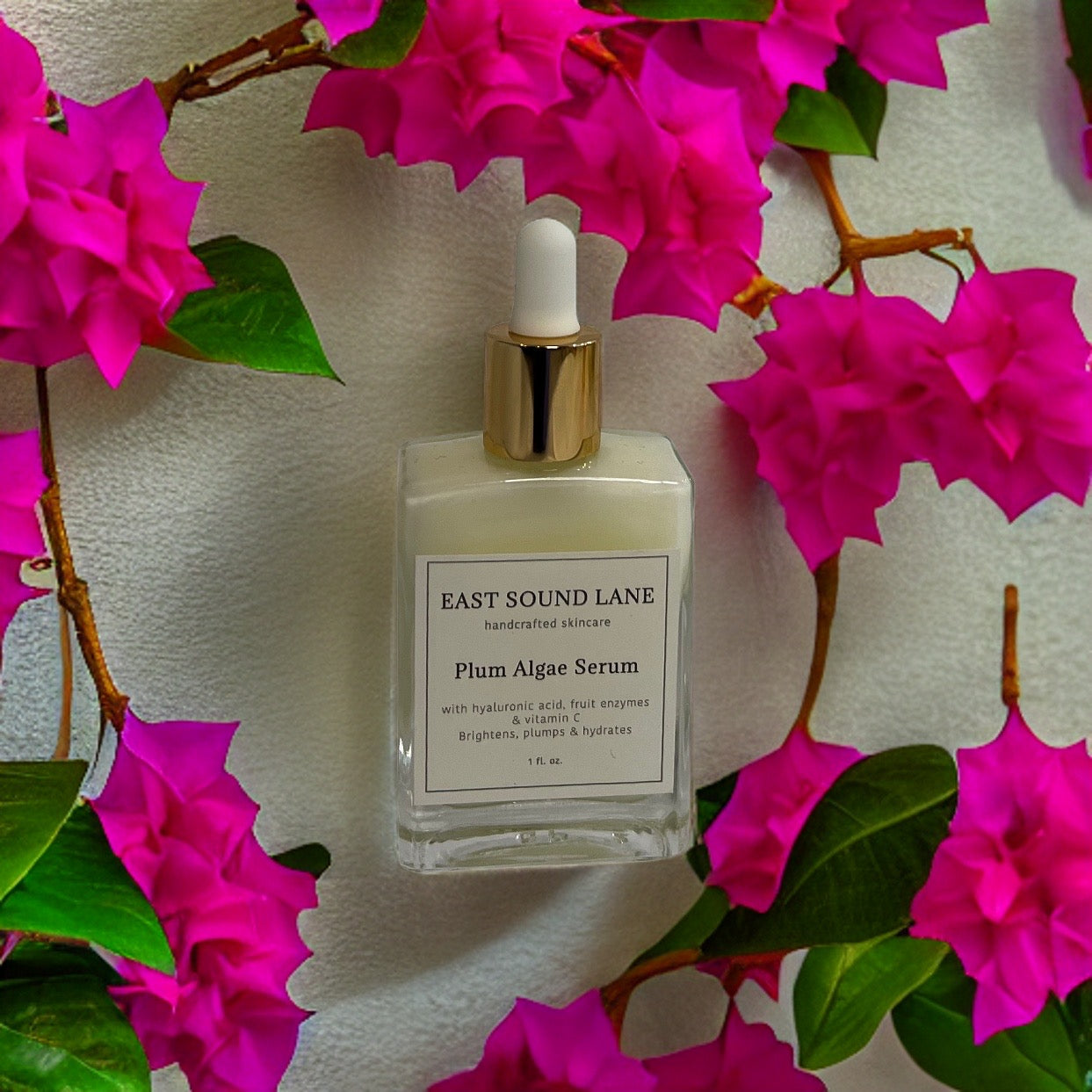 Okay I seriously need to give you a formal thank you for everything you do. I looked at my skin this morning and started tearing up because i noticed my acne scars have faded almost down to nothing. I changed my routine to be a cleanser and your serums then your kangaroo flower oil for the past 3 weeks and seriously Thank you so much for starting your brand and making these products. My forehead is so much more evenly toned and stubborn darkspots on my cheekbone areas have started to fade after YEARS!
"East Sound Lane products are working phenomenally for me. In just the 12 days that i've been using them, i've already started seeing skin results and i've had no breakouts whatsoever. In fact, the few breakouts I had before I started using them have cleared up beautifully. My skin is also staying hydrated and has a beautiful healthy glow to it. All that is a most definite win in my book and it hasn't taken me a month to achieve it. Highly impressed, well i'm already there 👌🏼"
I am obsessed with the Skin Silk Serum. I apply it right before my moisturizer, and it gives me the most balmy glow all day while making my skin super soft and calm. It's often hard for me to be regular about using my products, but this is one I always remember because I am truly seeing a difference in my skin after using for a few weeks. Love that all the ingredients are natural, right from a garden. Highly recommend!
"I have literally gotten in the habit of using the skin silk serum 3 times a day! I had blemishes on my forehead that never faded when I used chemical peels. Last weekend I noticed they actually started to fade when I used your products. I was so impressed!"
Stay up-to-date
Blog posts
Seasonally Updated
Key Ingredients
Aloe Vera: Aloe vera is a gel-like substance obtained from aloe, which is a succulent plant that typically grows in hot, dry climates. It has antioxidant, antibacterial and anti-inflammatory properties that boost healing, moisturize the skin and prevent aging. Research suggests aloe plants might be home to up to 200 different active compounds, such as vitamins, minerals and amino acids, that can help treat numerous skin conditions like minor burns, psoriasis and seborrheic dermatitis to name a few.
Alpha Lipoic Acid - helps fight anti-aging; reduce fine lines and wrinkles;  smoothes skin texture
ALGAE - Algae Oil – 40% DHA is a vegan-friendly alternative to animal-derived sources of Omega-3 essential fatty acids, pressed from microalgae scientifically known as Schizochytrium sp. The material has a bright orange to red appearance with a slightly marine aroma and bland flavor profile. Having a minimum of 40% DHA (docosahexaenoic acid), this oil has been growing in popularity over the years throughout the nutraceutical industry, allowing a plant-based supplement option of omega-3 fatty acids essential for the human body and overall health. Algae oil, often referred to as algal, is gaining traction in the personal-care and cosmetic realm as further research reveals potential benefits when applied directly to the skin such as deep moisturization, anti-aging properties, unclogging of the pores, and improving discoloration. 
Astaxanthin - Astaxanthin is a potent antioxidant known as a carotenoid, found in various foods. It also is found in some forms of red algae. Studies have shown that the antioxidant ability of astaxanthin is much more powerful than Vitamin C. Astaxanthin contains significantly more antioxidants than other superfood heroes, is anywhere from 10 to 100 times more powerful than other carotenoids like beta-carotene and lycopene, and may even be significantly more potent than skin-enhancing vitamin C and vitamin E. 
Buah Merah Oil (Virgin) - Virgin Buah Merah Oil, also known as Red Fruit Oil (RFO), is produced by pressing the long carrot-shaped fruit (12–43 in) of the Pandanus conoideus tree native to Indonesia, Papua New Guinea, and Papua.  This oil is considered the highest known source of antioxidants of any oil and has been found to contain 7 times more antioxidants than Acai Berry Oil or Pomegranate Seed Oil. It also contains high amounts of phytonutrients including flavonoids, beta-carotene & minerals such as calcium, magnesium, iron, zinc, copper, and manganese. Studies have shown antioxidants play a crucial role in maintaining youthful skin and encouraging hair growth, making this a great addition to a wide variety of products. This oil is very rich and dark so its typically used at a lower percentage in formulations ranging from 1%-15%+ depending on the application. Because of its extremely high nutritional content this oil can also improve general health when consumed internally as a supplement.
Blueberry Seed Oil - Blueberry seed oil is rich in essential fatty acids and phytonutrients, including omega 3 fatty acid, high in Vitamin A, B complex, C and E. The oil effectively  moisturizes and improves the skin's elasticity, reduces wrinkles, dryness and fine lines. It regenerates skin cells from within. In addition to its powerful antioxidant properties, blueberry seed oil is also high in omega-3 and omega-6. Together, these fatty acids are known as vitamin F and they help to moisturize the skin and regulate transepidermal water loss, leaving your skin soft and hydrated.
Eyebright Herbal Extract: Eyebright Extract, also known as Euphrasia Officinalis, is a herbal ingredient that helps the eyes to look more awake and brighter. The natural astringent, anti-inflammatory, antibacterial and antioxidant benefits of the Eyebright Extract help to protect skin against premature aging by reducing fine lines and wrinkles, calming inflammation and reducing swelling on the skin and around the eyes.  It can also treat  under eye puffiness and dark circles, minimize pores and tighten skin.
It also prevents the growth of certain types of infections, whether related to acne breakouts or eye infections (this may be particularly useful for people who are prone to eye infections from the use of makeup.)  Because it is specifically targeted for the eyes, Eyebright is often found in eye creams that are created to gently care for the delicate skin under and around the eyes. It is usually combined with other natural ingredients that are also gentle on the skin. Our Bright Eyes Serum for instance, contains Eyebright, Lime Seed Oil, Espresso Bean extract, Green Coffee and Aloe Vera extract For brighter eyes, reduced puffiness, minimized skin sagging and much more.
Goji Berries: Penetrating deep into the skin, Goji Seed Oil stimulates blood circulation and raises skin metabolism, thereby accelerating cell turnover, helping to even out skin tone, and attenuates melanin deposits such as age spots and freckles.Goji berries are rich in bioavailable beta-carotene, the precursor to Vitamin A/ Retinol. When in contact with skin's enzymes, carrot cells release their active nutrients to help protect cells from free radical damage and aid in rejuvenation and repair.
Kalahari Melon Seeds: Kalahari melon seed oil can help reduce the appearance of fine lines and wrinkles, reduce puffiness, and lead to tighter looking skin thanks to its rich content of essential fatty acids, vitamins and minerals. Clinical trials also highlight its skin-softening and anti-ageing properties. The oil is super-rich in linolenic acid, which makes up between 50% and 70% of its entire content. Used on the face, it gets to work unclogging pores and removing excess sebum from the surface of your skin.
Neem Oil: Neem is able to balance oil production, heal wounds, stimulate collagen formation, reduce post-acne scars and minimize skin inflammation. It works as a natural alternative to heal the skin tissue from within and simultaneously reduces hyperpigmentation and scars. Neem oil kills bacteria and fungus, reduces inflammation, and fights free radicals, making it useful in treating acne.
Helio Carrot Root Oil: Topical application of Helio Carrot Oil is said by many skin care experts to promote the formation of new cells and stimulate the production of sebum in dry, scaly skin, and scalp. Some authorities state that Carrot Root Extract is such a powerful antioxidant that it can help preserve the life of products containing it. It is also recommended by some to help prevent sun damage. Just a few drops of this enriching extract brings soothing to chapped and irritated skin. A must in formulas for aging or weathered skin. Please be aware that this extract, like many of the other beta-carotene-rich extracts, is deep orange and will temporarily color your skin.
Saffron: Applying or using saffron oil for your skin in any form can help you get a toned, healthy and glowing skin. The antioxidant properties of this oil fight free radicals and stop them from causing any damage to your skin. It also helps you unclog skin pores and removes blackheads. An anti-bacterial and exfoliant property of saffron oil treats acne from the roots and prevents them from reoccurring. It also helps you fight the spots and marks which acne leaves behind. Applying or using saffron oil for your skin in any form can help you get a toned, healthy and glowing skin.
Tomato: Tomato seed oil is suitable for age spots, dry, oily, combination and mature aging skin types. Improves elasticity, tone, encourages regeneration of skin cells. Used topically for wrinkles, scars, stretch marks, rashes, burns, acne scars, dry and cracked skin. Tomatoes are rich in lycopene, a potent antioxidant also in the carotene family. It serves to protect skin from environmental damage including over exposure to the sun.
Strawberry:  Excellent for sensitive and oily skin, skin with large pores. Strawberry seed oil helps damaged skin like acne, psoriasis, eczema, dermatitis, sunburn, stretch marks, burns, cuts, scars, acne and cellulite. It also works well to help dry damaged hair and a dry scalp, as well as brittle nails. 
Lemon Seed Oil: Lemon Seed contains Linoleic acid and Oleic acid, both of which are great for rejuvenating your skin, but also help soothe inflammation and moisturize the skin. The naturally high levels of Linoleic acid can help with acne prone skin.
Lime Seed Oil - is a powerful antioxidant that can help to reduce signs of aging & prevent premature aging of the skin - including wrinkles, dark circles & under eye bags, sagging skin, uneven skin tone & dry skin. The carotenoids in the oil protects the skin, promotes healthy collagen production, lowers inflammation & can also help with acne prone skin
Pomegranate Seed Oil: Pomegranate Oil leaves lasting moisture without leaving a greasy residue or clogging pores. Used medicinally, Pomegranate Carrier Oil works to deeply penetrate the skin to soothe and reduce inflammation while protecting skin against sun damage.
Papaya Seed Oil: Papaya Seed Oil contains fatty acids, such as Oleic Acid and Linoleic Acid, that work as anti-inflammatory agents, helping reduce redness and irritation on the complexion. With a combination of antimicrobial, scar-reducing and exfoliating properties, Papaya Seed Oil helps to discourage acne and breakouts.
Buah Merah Oil: Buah Merah contains a high level of alpha tocopherol content, a powerful antioxidant, along with having a healthy content of beta-Carotene. Beta-carotene is a form of Vitamin E which converts to Vitamin A otherwise known as retinol. It is also an anti-inflammatory and works well with acne prone skin. 
Hibiscus: contains antioxidants that maintain elasticity and promote even skin tone. Organic hibiscus tea is particularly rich in vitamin C, which is valuable to the synthesis of collagen and may help extract and treat ultraviolet induced photodamage.
Kakadu Plum: contains unparalleled levels of naturally-sourced, stable vitamin C, which protects skin cells from UV damage, improves appearance of sun-damaged skin, strengthens barrier response, promotes collagen, and lessens hyper-pigmentation.
Hyaluronic Acid: improves elasticity, and hydration while minimizing the appearance of wrinkles.
Niacinamide: aka vitamin B3, helps to build keratin within the skin, protect the lipid barrier, reduce inflammation, regulate oil production, protect against oxidative stress, minimize the appearance of wrinkles, and treat hyper-pigmentation and acne.
 Seaweed Absolute: The antioxidants in Seaweed Absolute can help prevent free radical damage to the skin and protect against skin aging. It is also helpful in managing minor pain and inflammation and can help reduce the presence of unwanted bacterial or viral activity. As a powerful humectant, seaweed draws moisture to skin cells, with potent polysaccharides absorbing water and bringing it to the skin. This provides long-lasting, hydration for moisturized-looking skin.
Seaweed Extract: Seaweed Extract is packed with all your skin's favorite vitamins and minerals, and helps to soothe, soften, and reduce sensitivity. Because seaweed cells are surprisingly similar to skin cells, it protects and maintains your skin's natural balance, defending against irritation. Seaweed tightens the skin cells and with its high level of vitamins, enriches the skin's natural glow causing an anti-aging effect. Furthermore, the amino acids found in seaweed plump up your skin, improving its elasticity, smoothing out any fine lines for healthier, firmer skin.
.Espresso bean extract - helps in stimulating blood flow, which reduces acne and even cellulite and stretch marks. Its rich antioxidants kill dead cells and remove impurities, making skin smoother and brighter looking. Helps to brighten and tighten tired eyes.
Orchid Extract: Not only does orchid oil moisture the skin it also boosts the skins immunity, reduces fine lines, signs of aging and soothes the skin
Oatmeal Extract: Oatmeal-based products work with your skin to do a number of things, including: Restoring moisture to dry skin to improve its appearance and reduce irritation
Grape Seed Extract: Thanks to its vitamin E and linoleic acid content, grape-seed oil lightens skin discolorations like acne scars and sunspots
Green Coffee Extract: Fights wrinkles - Since green coffee extract skin care contains antioxidants, these ingredients work to eliminate free radicals that can cause fine lines and premature aging
Natural Pea Peptides:  Pea peptides are rich in lysine, which plays a vital role in collagen productions, leaving the skin feeling firm and toned. These peptides also hold incredible moisture binding properties and can repair some cell damage through stimulating follicle stem cells to promote the growth of silky and smooth hair.
Plankton - Plankton is an incredibly versatile skincare ingredient - it protects the skin from UV radiation and blue light and helps to prevent pollutants and toxins from penetrating the skin. It reduces oxidative stress, protects the cells and fights the signs of premature skin aging.
Anigozanthos Flavidus (Kangaroo Paw Flower) Extract: The flower extract hydrates and brightens the skin. Its anti-ageing skincare benefits aside, Kangaroo Paw flower is packed with essential fatty acids to give your skin a radiant glow. It's rich in linoleic acid, which deeply nourishes the skin and seals in the moisture our complexions crave. 
Chia Seed Oil: Chia seed oil is rich in antioxidants and fatty acids, two things that help reduce and prevent wrinkles. It also helps reduce moisture loss and repairs your skin's moisture barrier to keep skin looking fresh, hydrated, and plump.
Peach Kernel Oil: It is calming and hydrating to skin; so is lovely for dry, irritated, and sensitive skin issues. It seals moisture into skin, to soften and comfort. Peach kernel oil is full of omega oils 3, 6 and 9. These oils help skin to function well; providing hydration, strength and suppleness. Often used as a carrier oil in both facial and body massages. 
Seabuckthorn Seed Oil: It's rich in unsaturated fat, antioxidants, phytosterols, carotenoids, and vitamins E and K — all of which function together to protect your skin's integrity and promote its renewal.
Seaweed Absolute: The antioxidants in Seaweed Absolute can help prevent free radical damage to the skin and protect against skin aging. It is also helpful in managing minor pain and inflammation and can help reduce the presence of unwanted bacterial or viral activity.
Fenugreek Oil:  works as an antioxidant, so it helps fight acne and is even used on the skin to support wound healing. The oil also has powerful anti-inflammatory compounds that can soothe the skin and relieve breakouts or skin irritations.
Fig Extract: Fig extract has been proven to reduce the skin melanin, water loss and sebum, keeping the skin hydrated and plump. Moreover, fig extract improves the skin hydration and works as a natural remedy for hyperpigmentation, acne and wrinkles.
Fruit Enzymes: The main benefits of fruit enzymes in skin care is that they gently exfoliate your skin without irritating or inflaming it. This natural exfoliation gets rid of dead skin cells by breaking down the keratin protein that 'glues' your skin cells together and gives you smooth, glowing skin. 
L-Ascorbic Acid: The powdered form of vitamin C or L-ascorbic acid, works more effectively to clarify and improve skin's texture. This powdered vitamin C also has antioxidants that prevent wrinkles, fade away blemishes, dark spots, hyperpigmentation, and improve overall quality of the skin.
Vitamin K: Vitamin K helps protect the collagen in the skin. When healthy collagen production is maintained, your skin appears more plump, smooth and youthful. This means that your skin will be able to maintain its elasticity, hence, preventing wrinkles and fine lines.
Red Algae: Red algae is purifying, revitalizing, nutritious and exfoliating for the skin.  Red algae contains the minerals of Magnesium, Copper, Calcium and Zinc. These minerals help to assist the skin in regeneration, hydration, collagen production, elasticity and protection from outside elements. Red Algae is also high in antioxidants. It is very beneficial for problematic skin.
Resveratrol -  has effective skin-lightening properties and is considered more effective than ascorbic acid and kojic acid. It's fast-acting with visible and significant results in as little as two weeks when applied three times per day. It has been found to reduce the appearance of aging skin due to its good antioxidant effect. Resveratrol is recommended for skin brightening facial and body care products, anti-age spot creams, serums, anti-aging for even skin tone, toners, sunscreen for UV protection.
Green Clay - Green clay gently cleans and decongests the skin. It is a natural exfoliant and stimulant, and also works as a pore-tightening toner. Regular use can rebalance, soften and brighten the skin to improve overall complexion.
Mangosteen - Mangosteen has natural antibacterial properties and antimicrobial compounds, which are highly effective in treating many common skin problems. The consumption of mangosteen can cure Acne, skin blemishes, oily skin, and dry skin.
Purple Brazilian Clay: While you may not think that clay could naturally have such a bold color, the beautiful soft purple color of this clay is due to high levels of magnesium. Purple clay benefits are mostly anti-aging. Magnesium, after all, helps ensure healthy skin cells, which can make you look younger. Purple Brazilian Clay can also help prevent your skin from absorbing environmental contaminants and impurities.